---
The book required for this study is available in our Book Nook for $11.
---
HOPE: a sure or confident expectation
The HOPE 146 ministry is based on the principles found in Titus 2:3-5, which teaches how to grow and enhance our spiritual and personal lives, the lives of our families, and the lives of those around us.
Titus 2:3-5 states, "Likewise, teach the older women to be reverent in the way they live, not to be slanderers or addicted too much wine, but to teach what is good. Then they can train the younger women to love their husbands and children, to be self-controlled and pure, to be busy at home, to be kind and to be subject to their husbands, so that no one will malign the Word of God."
Whether young or old, a woman has the potential to affect her world by her character and the conduct of her life. As believers, women should reflect and demonstrate that their help in every situation comes from the God of hope who brings joy and peace in believing (Romans 15:13).
Please be sure to note the added Bible study and fellowship opportunities for the women of HOPE 146.
VIEW CALENDAR EVENT
---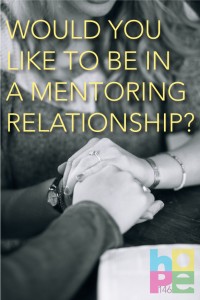 Are you also interested in a one-on-one, mentoring relationship? If so, please click here and complete the application. You'll soon be prayerfully placed with another sister in Christ.